I'm a carboholic. I'm a huge fan of white bread. Bleached white flour, you know. I love pasta, and sandwiches, I eat rice everyday. For Asian, rice is inescapable!
Then last week, my mom and me stopped by an organic shop, she bought to herself four loaves of whole grain organic breads, and gave me one. I started to like this whole grain bread ever since. I discovered few interesting things about this new found:
1/ More filling
Whole grain bread is low in fat but high in fibre and complex carbohydrates, which explains why you fill up quicker.
2/ Tastes better
I love to eat (white) bread with peanut butter. But with whole grain bread, I don't need peanut butter spread anymore. It taste good alone.
If you said "yuck," when I write about bowel movement, you're not alone. Most people don't want to discuss going poop. But bowel movement is an important body function. So it's good to know how to relieve irregularity or constipation. Whole grains diets has help me keep my digestive system regular by promoting normal bowel movements.
Inescapable: Asian culture is big on polished white rice with all their meals
Making the switch from white bread to whole grain bread can be tough. But I've switched to whole grain bread, as opposed to white. I think my kids like white bread if they are given the option, but I want to introduce whole grain bread in my home and influence the whole family practices healthy diet.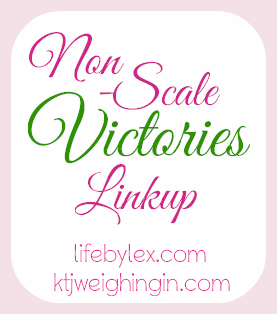 This post link to
Katie of KTJ Weighing In
. Well, that is my one and only very small success this week.
What is your Non-Scale Victory this week?