My Non-Scale Victories this week is NO Victory.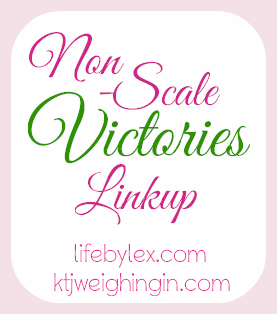 Linking up with KTJ
is honestly something I'm looking forward to every week now. This linking party is like a motivation for me to work hard throughout the week so I can report something positive, thus to hold myself accountable to my goal weight.
Okay, I'm being too dramatic. The world's still turning. The sun's still in the sky. I got to pick myself up, and dust myself off. Start all over, again.
Today I make a simple SWOT Analysis to confirming my weight loss goal. SWOT stands for Strengths, Weaknesses, Opportunities and Threats. A SWOT analysis is basically a strategic tool used in business (and many other fields) for so many years. I was thinking that perhaps I can use this tool to help me with my goal setting so far and focuses on the steps necessary to achieve my weight-loss goal.
1. Weight Loss Mission and Goals
Resetting a goal is important because it provides me direction and purpose. I have
101 reasons to lose weight
but my top reason to lose weight is for health. I need to lose weight to prevent diabetes. I want to lose weight so no one will ever ask me about my "due date" anymore when I'm not pregnant.
This has been an embarrassing things happen to me all the time!
And as a matter of fact, we're planning for baby no.3 so it is very important to get a healthy body weight before I get pregnant.
2. Strengths
I can be a persistence exerciser like seriously? No, if I'm in a mood to jump up and start exercising, I'd better start right away and I can be very good at it. Only under one condition, exercise session with no interruption or I'll stop and quickly lose my momentum.
3. Weaknesses
I'm kind of person who like delaying doing something. That's a bad habit!


4. Opportunities
I am a stay at home mom. So I cook a lot at home which means I have a full control over the ingredients and portion sizes at my table. I have more flexible workout schedule. I just need to make time for it.
5. Threats
First off, I am a facebookaholic. I realize I'm on facebook way too much, which stealing away much of my time. Secondly, as a SAHM and have fully access to foods, I tend to have cheat meals. Cheat meal usually tends to turn into a cheat day, and then a cheat week, and that is how I went completely off the wagon this week. I just can't find the motivation to get back on track!
6. Reflections and Strategies
It's so hard for me to wake up extra early in the morning. I use to hit the snooze button and return to sleep. But morning is the only time I can fit exercise in. Usually after I send off my husband and daughter to work and school, I would take a morning bath. Showering in the morning gets me clean, makes me feel fresh and also wakes me up!

I have a wonderful feeling to begin my day after a fresh morning bath. I can catch some crazy momentum with exercise. And if I have a good workout in the morning I will less likely to cheat and eat fatty junk food at the end of the day because I simply don't want to ruin my weight loss effort.
7. Action Plan
Wake up extra early in the morning to build a strong level of momentum. I believe if I start the day productive, I will tend to continue the day with that same disposition. So when the alarm clock rings in the morning, get out of the bed immediately. Just get straight up and take a shower.
Plan B: 'assign' hubs to pour a bucket of cold water on me if I continue to sleep after turn off the alarm clock.
He can go back to his sleep after that.
This photo has nothing to do with this post. I just think it's funny.
Image found on Funny Junk
Have you ever done personal SWOT analysis for goal setting? How do you set and achieve your personal goals?